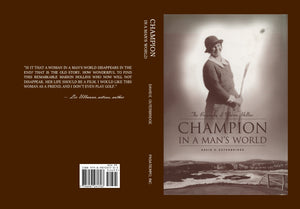 Pasatiempo GC
"Champion in a Man's World" The Biography of Marion Hollins
Regular price
$24.95
$0.00
Unit price
per
Book on Pasatiempo's Founder, Marion Hollins

and 2022 World Golf Hall of Fame Inductee

Marion Hollins was a champion in a man's world. Born just before the turn of the century in 1892, a time when women "knew their place." It was a notion she rejected throughout her tradition-shattering career.

David Outerbridge tells the tale of an extraordinary woman who is perhaps the sportswoman of the twentieth century. Yet, although she filled the newspapers and magazines of her day, her record of amazing accomplishments is not well known today.

She created the Cypress Point club and organized its original membership. When the architects Seth Raynor and Alister MacKenzie advised her that its famous 16th hole was too long for a straight carry par 3, she said they were wrong, picked up a brassie, and sent a ball screaming across the ocean. Where it landed is the green, the most photographed hole in all of golf.

She created Pasatiempo, another golfing gem and introduced steeplechase to northern California there.

Marion Hollins is the personification of a great amateur, and woman who was stopped by no obstacle or convention in achieving what she thought needed to be done. Read this biography to learn that she was indeed a champion in a man's world.
---
Share this Product
---